Description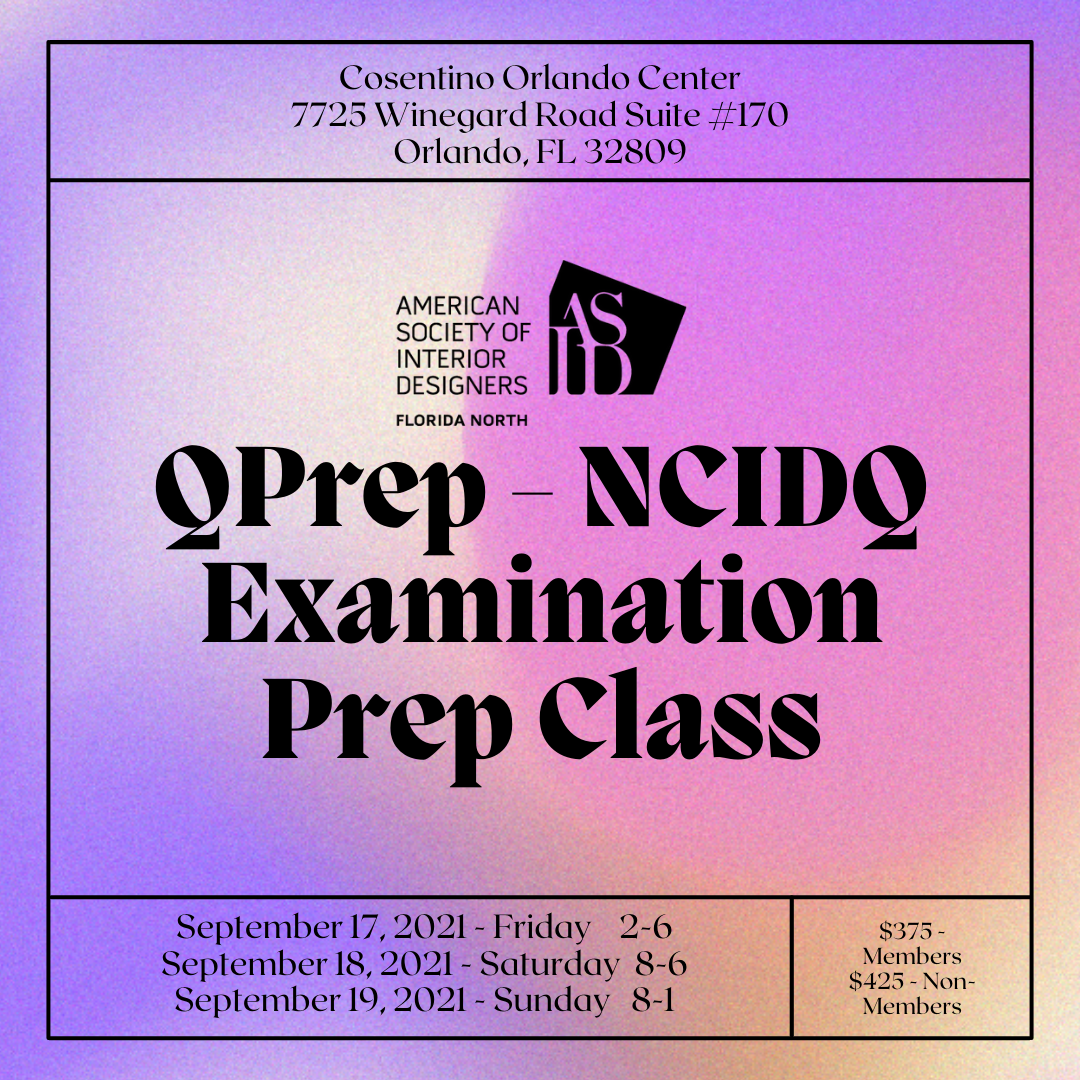 We are so excited to offer the QPrep NCIDQ Prep Course! This course we feel will be extremely helpful and beneficial to emerging professionals in Interior Design. QPrep has entered into an agreement with CIDQ to offer the answers to the exam that participants will not get if they take the exam on their own. We feel this will be invaluable information to see the computer grading and how CIDQ structures this process.
MEMBERS – $375
NON-MEMBERS – $425
Class schedule:
September 17, 2021 - Friday 2-6
September 18, 2021 - Saturday 8-6
September 19, 2021 - Sunday 8-1

Location:
Cosentino Orlando Center
7725 Winegard Road Suite #170
Orlando, FL 32809


*Space is limited*
Should you have additional questions please feel free to contact us. You may also view the website at www.qprepworkshops.com for additional information.
Presenter: Phyllis D. Moore, FASID, NCIDQ, RID
What is covered:
*What NCIDQ is and how the exam is constructed and graded.
*Details about each exam case study
*All the codes and what exam they apply to. Also which codes will likely be on the exams and how to study them.
*Review of reference materials
*Study tips
*Review and discussion of all 3 exam blueprints
*More detailed review on FX and PX. Types of questions, how they are constructed, and how to break them down to understand how to select the answer.
We are open to questions throughout the class. Interaction and discussion are encouraged so they get a broad picture of the exam and how to prepare.
QPrep is clear as to what information is their interpretation based on what information they get from NCIDQ and what information is directly from NCIDQ. They do work closely with NCIDQ and ICC code officials in preparing.
The binders are about 200 pages of the entire ppt. with illustrations of each code plus the references, and Fx-PX information and sample questions.
REGISTRATION CLOSES AUGUST 30TH
HOTEL RECOMMENDATIONS:
Florida Hotel at the Florida Mall
1500 Sand Lake Road
Orlando, FL
407-859-1500
10 minutes from the airport area:
Wyndham Garden Orlando Airport
2635 McCoy Road
Orlando, FL 32809
407-917-8232