Description
ASID returns to NeoCon in 2017 and will be located off the main lobby to welcome you! Expand your network and engage with industry professionals as ASID provides networking and knowledge sharing opportunities throughout NeoCon. And students, don't miss our inspirational Student Day Program including the ASID Career Exchange and ASID Student Roadmap.
The Blueprint Lounge Powered by ASID (open daily)
Floor 1, West Pass-Through
Connect, recharge, and explore while visiting the Blueprint Lounge powered by ASID. Designed by the award-winning innovation and design studio, ICRAVE, join ASID in the lounge for three full days of activities, discussions, networking, and an exploration of how Design Impacts Lives.
---
Lunch provided by Farmer's Fridge
Monday, June 12
12:30 - 2 p.m.
The Blueprint Lounge
ASID partnered with Farmer's Fridge to provide a healthy midday boost to include a southwest salad and chocolate trail mix sample.
Lead the Movement: Designing for WELL-being with Jessica Cooper of IWBI and Randy Fiser of ASID
Hosted by the International Well Building Institute
Monday, June 12
3 – 4 p.m.
The Blueprint Lounge
Join leaders from ASID and the International WELL Building Institute (IWBI) for a refreshment break while enjoying a pop-up talk on the intersection between health and design. Learn how to join the growing community of WELL APs who are leading the movement to design better spaces.
---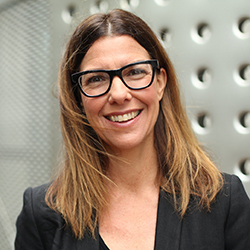 KEYNOTE: Jessica Green, CTO, Phylagen [KE2]
Keynote (Sold Out)
Tuesday, June 13
8:30 – 9:30 a.m.
NeoCon Theater
How can we create sustainable cities and healthier buildings by studying microbes? TED Senior Fellow Jessica Green explains how in a visually rich talk that charts the frontier of bio-inspired design. She examines microorganisms to touch on deeper questions about humanity: What does it mean to be an individual? Where does your identity begin, and where does it end? As co-founder and CTO of Phylagen, a DNA data harvesting and analytics company, Green envisions a future for urban design that promotes sustainability, human health, and well-being.
Meet and Greet
Tuesday, June 13
10 – 10:30 a.m.
The Blueprint Lounge
After the sold-out Keynote session, TED Senior Fellow, Jessica Green will join ASID in The Blueprint Lounge to meet with guests.
We are WELL: Pop-up Chat with IWBI
Tuesday, June 13
Noon - 1 p.m.
The Blueprint Lounge
Join the team behind the WELL Building Standard to talk about applying WELL to your design project - and get the inside scoop on getting started on your WELL AP credential.
ASID Student Roadmap
Date: Tuesday, June 13, 1:30 – 3 p.m
Location: The Mart. Meet at the ASID Space located in the West Pass Through (Floor 1)
Exclusively for ASID student members, experience a curated tour of NeoCon with professional designers who will help you navigate the show. Students will meet with tour leaders to pick up badges, navigate the show floor, and meet with exhibitors and attendees. Registration required. Register.
ICON + D Celebration
Tuesday, June 13
3 – 4 p.m.
The Blueprint Lounge
Join ASID and the Interior Designers of Canada (IDC) for a toast as we celebrate the merger of ICON + D.
---
ASID Career Exchange and Portfolio Review
Date: Wednesday, June 14, 10:30 a.m. – Noon
Location: 6th floor, Suite 614
Find your next interior design job or internship through networking at the ASID Career Exchange! Bring your portfolio and resume to be reviewed by top industry professionals from Humanscale, Buzzispace, Mohawk Group and more. Students and recent grads will engage in multiple ten minute conversations with design professionals to learn about the interior design profession or to receive a resume or portfolio critique. Registration required. Register.
Students and recent graduates from across the nation attend NeoCon to network and visualize their career paths. As an industry professional, your insights are valuable to those just starting out and represent knowledge that can't be acquired in a classroom. Join ASID at the NeoCon Career Exchange to support the next generation of interior designers by offering them your professional advice and feedback. If you are an interior design professional seeking new talent, consider participating as a portfolio reviewer. For more information and to volunteer, email Tiffany Neumann (tneumann@asid.org).