Interior design firms reported a modest reduction in billings in April but the readings remained in positive territory. The ASID Interior Design Billings Index (IDBI) declined from 60.2 in March to 58.6 in April, and the three-month moving average figure of 61 was consistent with its April 2016 score. The ASID business inquiries index, a leading indicator of potential work, registered another strong reading of 63.6 in April, up from 58 in March. Scores above 50 indicate business expansion, while those below 50 indicate contraction.
From a regional perspective, firms in the South led the way, posting a score of 55.3, an increase of 5.5 points from March. The West also showed improvement, while the Midwest and Northeast lost momentum in April. Firms in the Midwest did not meet the ideal score of 50.
Based on the six-month outlook index, design firms are expecting some moderation in activity. After reaching a recent high of 67.9 in February, panelists scored 63.4 in March and 59.2 in April. The outlook still remains encouraging and is expected to remain expansionary. April's expectations of a modest pullback in the outlook is consistent with the Conference Board's Consumer Confidence expectations as well as the Dodge Momentum Index.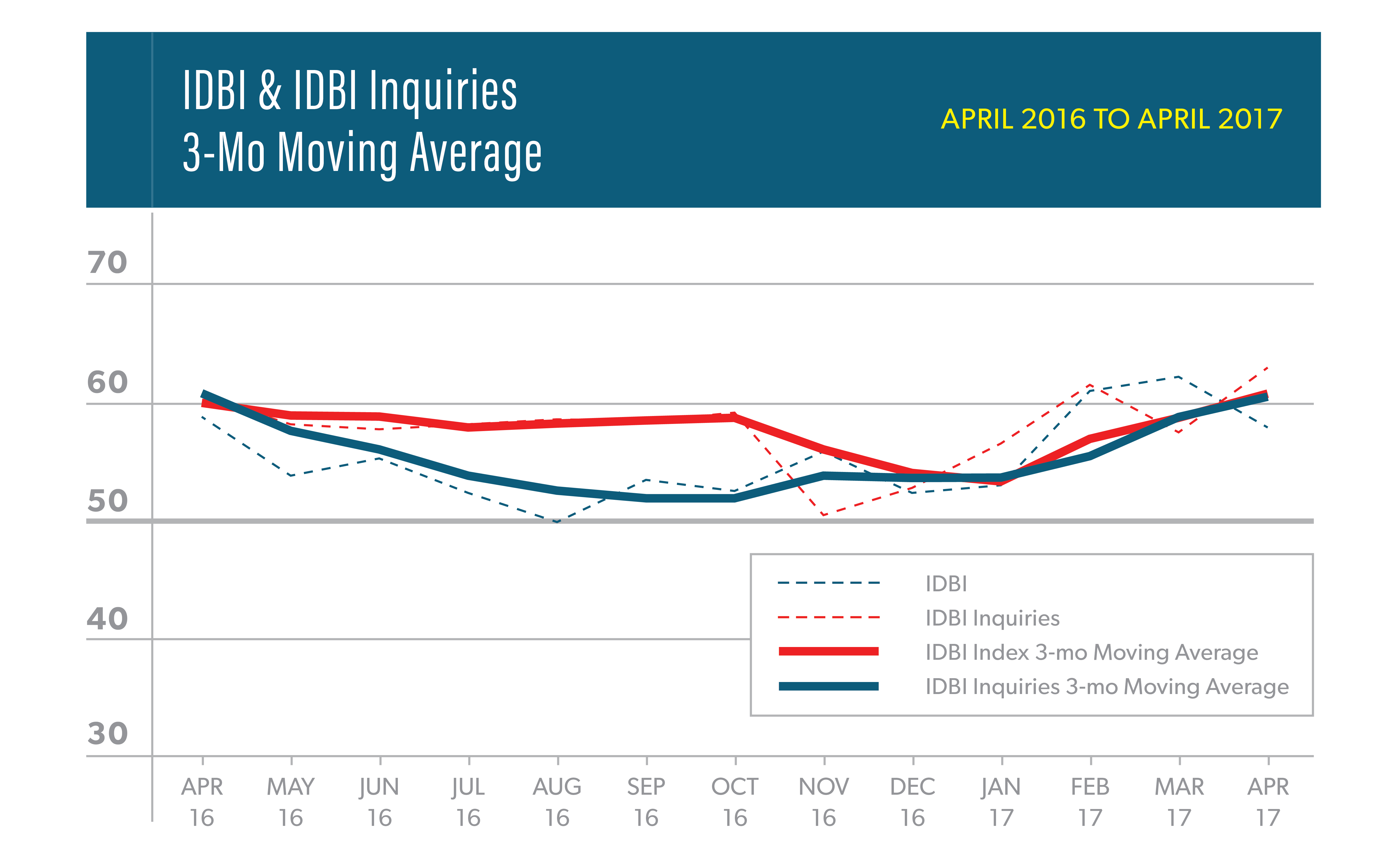 This month's special question asked our survey panelists about recent hiring activities. Of the respondents, 30% indicted that they had or would hire additional employees in 2017. A greater percentage of firms located in the South, 48%, indicated they would or had recently hired additional employees. Firms in all revenue categories indicated they either had or would be hiring. Hiring indications were most pronounced in the larger firms where 46% with revenues of at least $1 million indicated they had or would hire in 2017. Firms sought to hire designers (75%) over administrators (30%). Respondents reported that finding the desired level of design talent was a concern as 63% of respondents claimed it was difficult or very difficult to find the talent they sought.