COVID-19 creates significant swings in current and future business assessment
Business conditions for the interior design industry improved during July as ASID's Interior Design Billing Index (IDBI) increased 2.9 points to 51.1 from the 48.2 reading recorded in June. The index's three-month moving average remained below 50 which is weighed down by the extremely poor conditions of the last few months brought about by the Coronavirus (COVID-19) pandemic (any score above 50 represents expansion and below 50 represents contraction in billings). Inquiries Index for July fell below 50, dipping to 47.7 from June's 53.0, suggesting a weaker pipeline of new business. Conversely, the three-month moving average for inquiries rose to 50.2 from 42.1 in June but this is probably due to past optimism, hoping that the virus had stabilized. However, since then, infections have increased leading to heightened concerns about health and safety.
Reported as three-month moving averages, all regions again are soft and still in contractionary territory for July. Nonetheless, the indexes rose for each region; Midwest (45.6), Northeast (34.8), South (45.7), and West (42.1). The regional data is at odds with July's IDBI reading being above 50 due to the seasonal adjustment factors1 applied to the data; the monthly results are smoothed using a three-month moving average to dampened volatility swings.
Looking forward, extremely poor business conditions are expected over the next six months. The panel lowered significantly its appraisal of future business conditions from a reading of 54.4 in June to 39.2 for July, returning back to a status of contraction after two consecutive months in expansionary territory.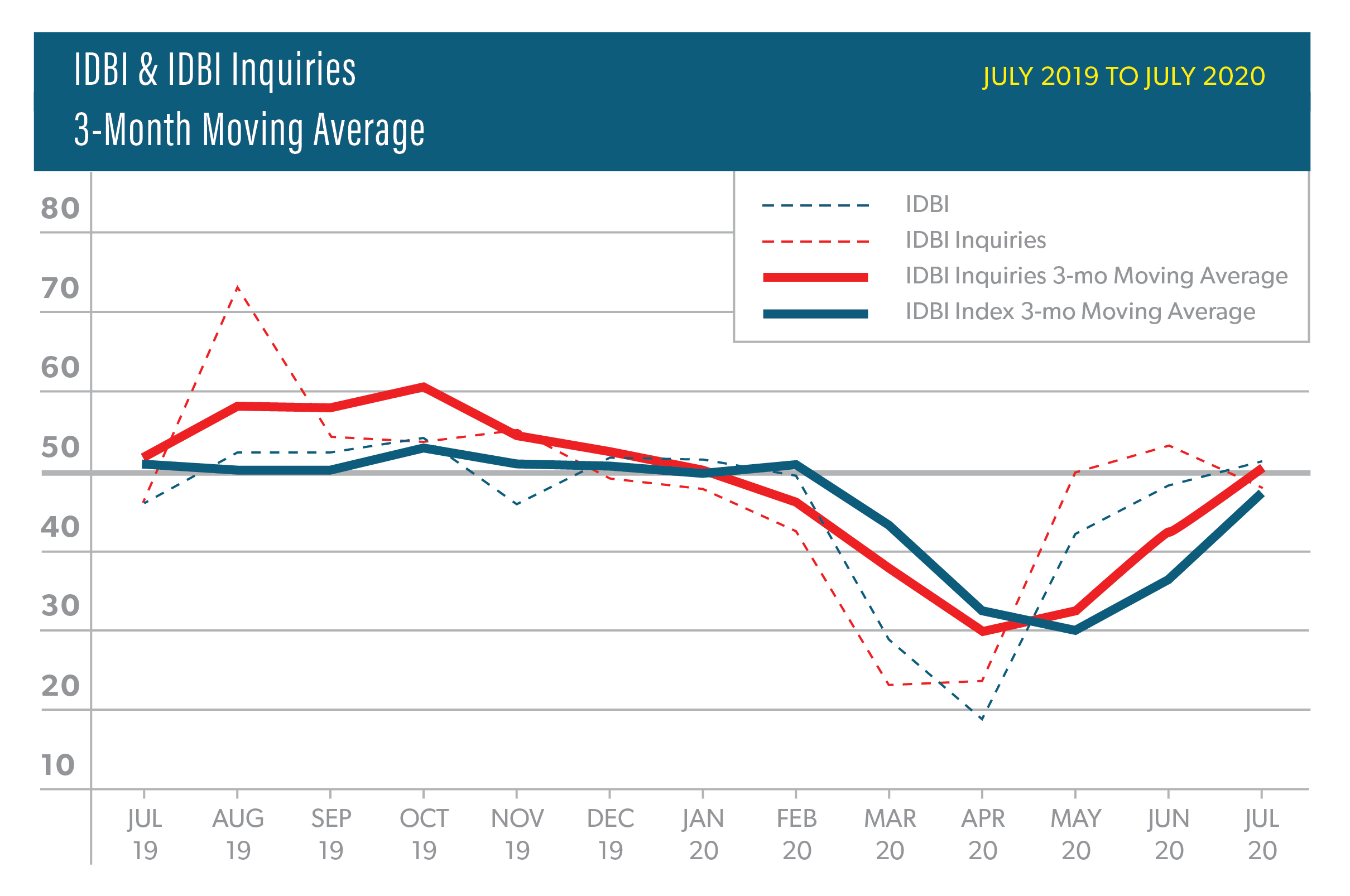 1To allow for meaningful comparisons, beginning in January 2019, all monthly scores are seasonally adjusted which provide a more accurate picture of the underlying changes affecting the data. For more information regarding the seasonally adjusted calculation, please click on the following link: https://www.asid.org/resources/resources/view/resource-center/224