IDBI Pulls Back from Rebound in May
The American Society of Interior Designers' Interior Design Billings Index (IDBI) dropped to a score of 45.9 in June from a score of 52.0 in May. The index is below the key breakeven threshold of 50, meaning more firms are seeing billings decrease than increase. The index's three-month moving average is also below the 50 mark, registering a score of 48.3. Historically, June's index score tends to decrease from May's by approximately four points, suggesting the presence of reoccurring seasonal factors that could be depressing business conditions. The new project inquiry index for June rebounded to a score of 50 from 47.3 in June, signaling potential future demand for design services.
The regional categories are calculated as a three-month moving average and June's scores show varying revenue growth. The South region posted a score of 50 in June, a fall off from 58.9 in May, and the Midwest region reversed course from its strong performance in May, dropping from 59 to a score of 40 in June. The Northeast region's score of 46.4 increased from 42.9, while firms in the West region showed an increase from 40.6 in May to 45.0 in June.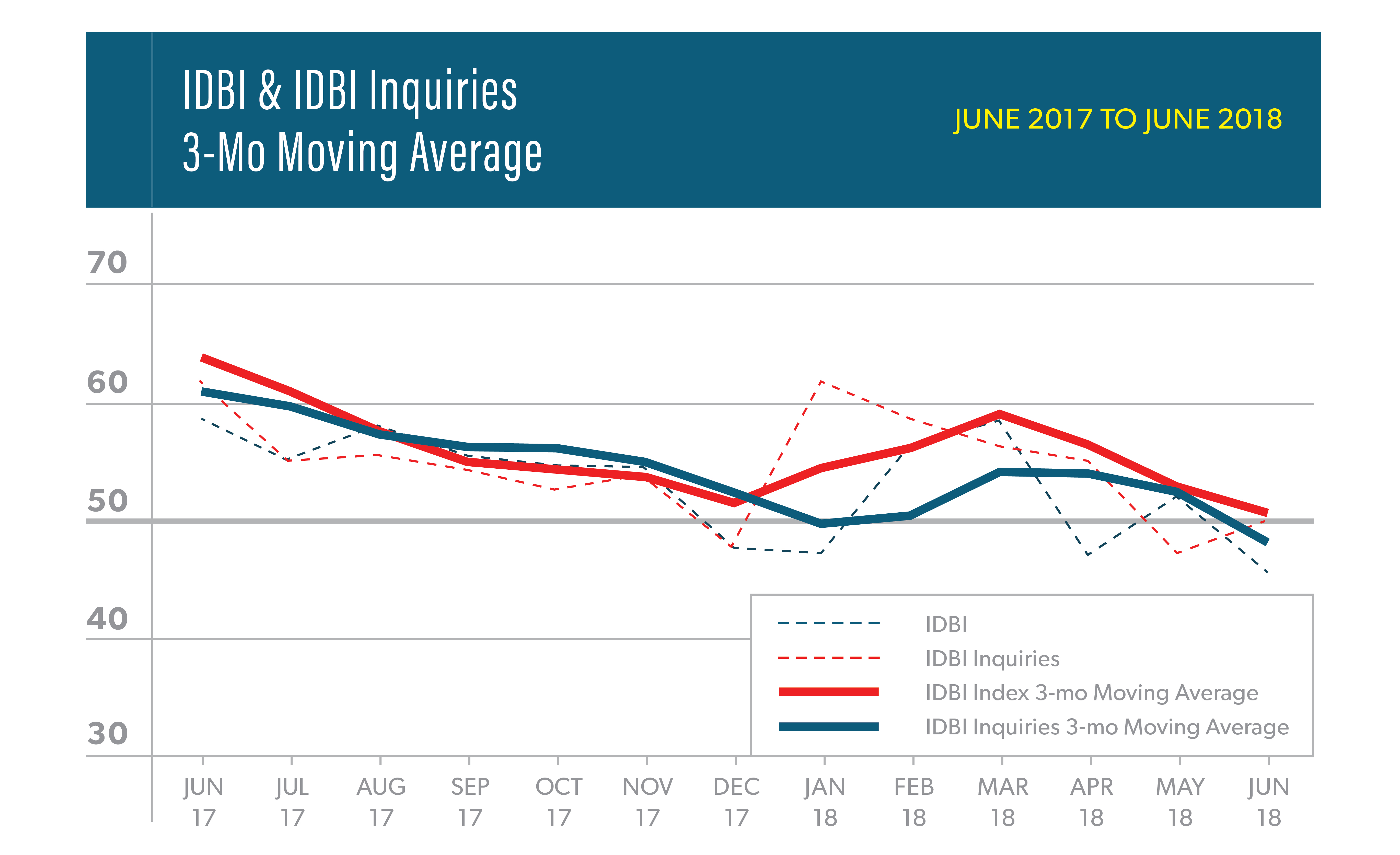 The design industry remains optimistic about near-term business conditions with 89 percent of respondents expecting conditions to be about the same or better than they are now. The six-month business conditions index score remains in positive territory at 59.6 for June, but less than its 12-month average of 61.4.
This month's special questions asked our survey panelists about business performance over the last six months and their expectations for the second half of 2018. Most respondents, 64 percent, believe their businesses had met expectations or had performed better than expected during the first six months of 2018. Looking forward, four out of ten respondents (42 percent) expect sales to grow between five and ten percent over the next six months. Another one in four (23 percent) expect sales to grow by more than 25 percent. In contrast, nearly one in four respondents (23 percent) expect negative or zero growth in sales in the second half of 2018.