Business conditions for interior design firms decelerated in June but remain in an expansionary mode. The American Society for Interior Designers (ASID) reported a June IDBI score of 51.7, down from May's score of 53.8. The index has slipped 9.2 points from its recent high of 60.9 in March 2019. The industry remains in expansionary territory as any score about 50 indicates an increase in billings. The three-month moving average also slowed to 53.6 in June compared to the 56.7 average posted in May. The June new projects inquiries index was 54.1, a decline from the previous month's reading of 53.1. Although its three-month moving average is slightly down, it remains elevated at 57.3. Looking forward, panelists' outlooks remain positive over the next six months with a reading of 53.3.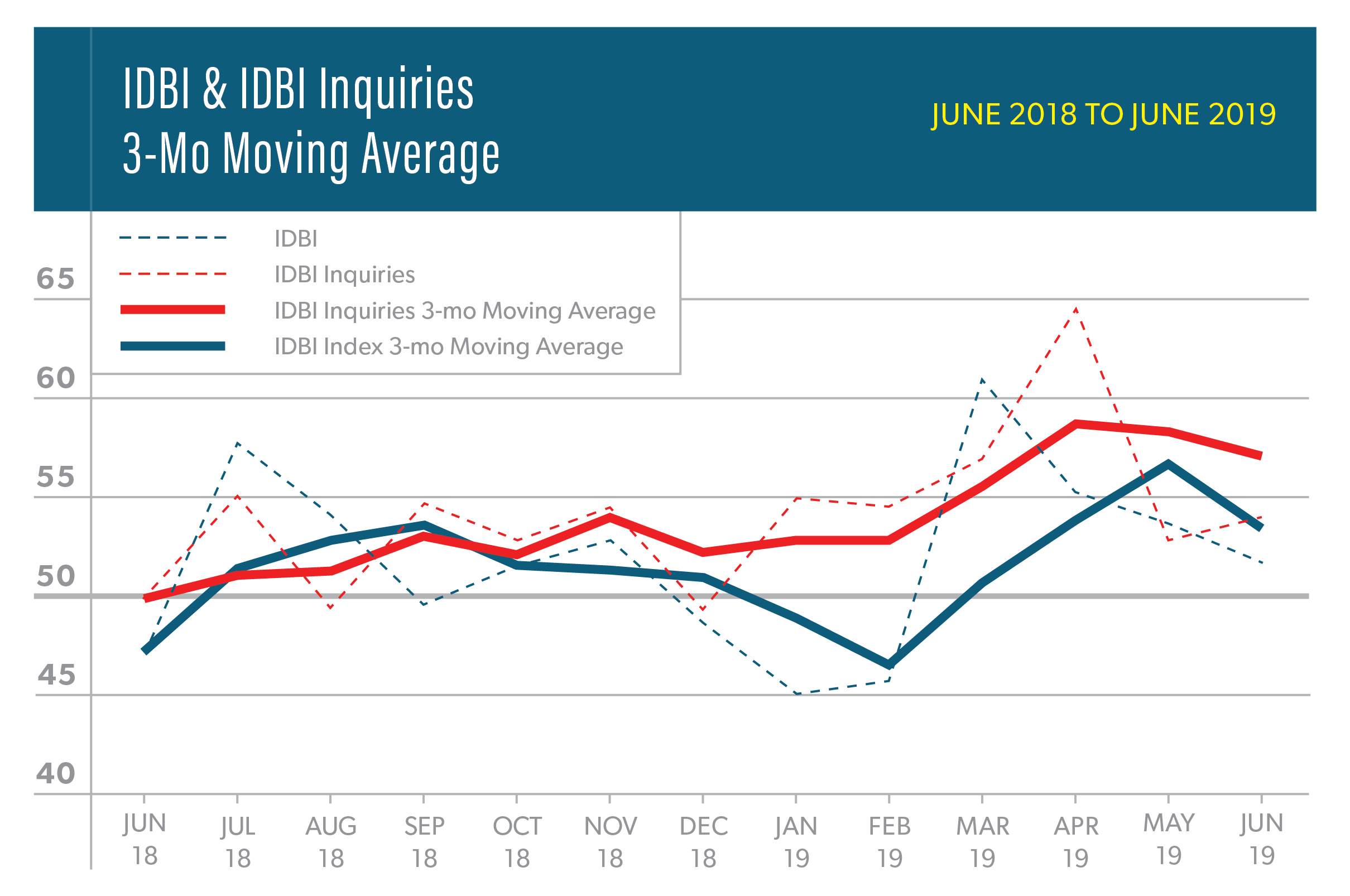 "All regions continue to indicate positive business conditions and remain in an expansionary posture," said economist Jack Kleinhenz, Ph.D., from the economic and business market research firm, Kleinhenz & Associates. With the regional categories calculated as a three-month moving average, firms in the Midwest recorded a score of 61.4 which is slightly lower than May's score of 62.3, but considered a strong performance. The Northeast also reported a solid score of 56.2, a small decline from the score of 57.7 in the previous month. The South scored an index of 51.6 in June compared to May's 54.2, and firms in the West were essentially unchanged with a score of 52.4 in June, slipping just slightly from 52.6 in May.
Interior design firms appear to be having a better year for the first six months in 2019 relative to expectations than during the same time frame in 2018. Seventy-one percent report their business met or exceeded expectations for the first half of the year in 2019; this result is comparable to the 64 percent that reported a year ago when asked the same question. A full third of interior designers felt that their business performance had exceeded expectations for the first six months of the year.
Optional Bonus Questions for June: Impact of Tariffs and Sales Forecast
This month, ASID firms were surveyed in two topic areas: 1) the impact of tariffs on their business and 2) the sales outlook for the second half of 2019. Two out of three respondents (66 percent) said tariffs had an impact in 2019 compared to only 15 percent in 2018. When asked to expand on their impact, respondents believe that the tariffs are causing price increases in products such as steel, fabrics, furniture, and quartz countertops. Looking forward to the remainder of 2019, 30 percent of firms expect zero or negative sales growth. Conversely, 69 percent of respondents expect that growth in the last six months of 2019 will be positive, but this is nearly a ten percent reduction from the responses to the same question over the prior two years.