The ASID Interior Design Billings Index (IDBI) strengthened in May, increasing to a score of 52.0 from a score of 47.1 in April. Scores above 50 indicate industry expansion and higher billings. The index's three-month moving average held its own, registering a score of 52.5, down slightly from April's score of 54.0. The new project inquiry index lost some ground, dipping to a score of 47.3 from a score of 55.1 in April. While the May new project inquiry score indicates a reduction in market sentiment, its three-month moving average of 52.9 remains above the key 50 threshold.
The regional categories are calculated as a three-month moving average, and May's scores show strength in some regions and soft conditions in others. The Midwest region led the pack with an IDBI score of 59.0 in May, up from 55.0 in April, while the South recorded a strong score of 57.8, down from 61.1 in April. The Northeast region's score of 42.9 declined from 46.8, while firms in the West declined from a score of 50 in April to 47 in May.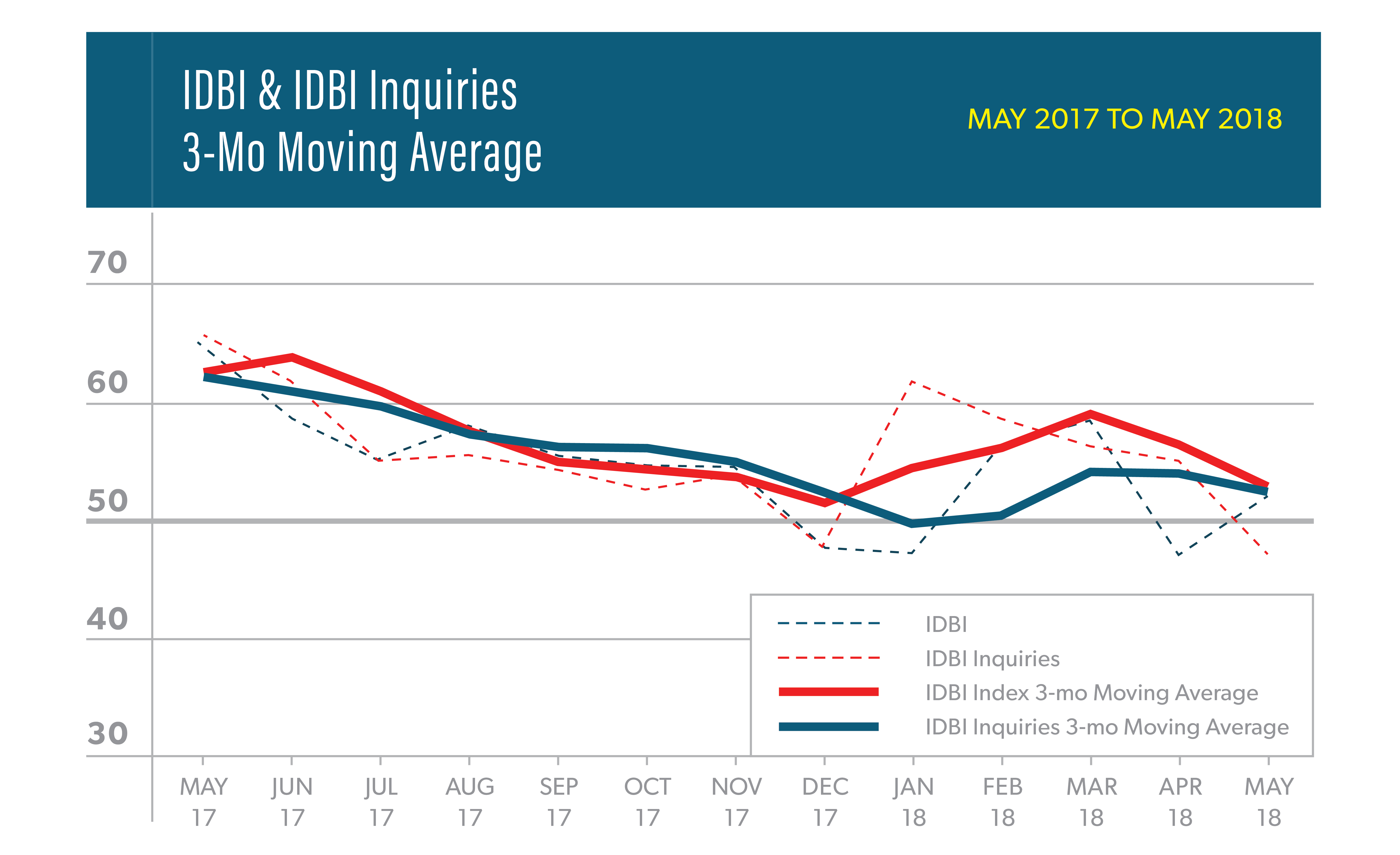 In the aggregate, design firms continue to hold a positive outlook as measured by this month's survey. The six-month index remains elevated at 63.1, slightly lower than April's score of 66.4.
This month's special question asked our survey panelists about time spent attending trade shows. Approximately 76 percent of respondents attended one or more trade shows in 2017. Nearly one in four, 23 percent, attended three or more.
Unplanned visits to exhibitors accounted for most of the time spent at trade shows as reported by nearly half of the panelists (49 percent). On average, respondents spent 29 percent of their time on educational activities, with the remaining time spent on networking and planned visits to exhibitors.
When asked about the products focused on at trade shows (e.g. NeoCon, High Point Market), the most popular products were furniture, lighting, floor coverings, and upholstery. Wall paint and window coverings were the least focused upon by attending panelists.