Industry conditions tailed off in November as ASID's Interior Design Billing Index (IDBI) dipped by 9 points to 45.8 following three months of improving billings; this is largest decrease for IDBI since December 2015 and returns to a level last seen in February 2019 (any score above 50 represents growth and below 50 represents contraction in billings). The index's three-month moving average of 51.1 lost ground from the previous month's reading of 53.4. The new projects inquiry index was 56.6, a slight increase from October's 54.1. Its three-month moving average posted a score of 55.1, reflecting a positive outlook by panelist regarding future business. This optimism is consistent with the six-month expectations index which rebounded into expansion territory with a reading of 54.9.
The survey was open from December 3 to December 16 and an important development that occurred at the tail end of this period could have changed this month's survey results. American and Chinese negotiators reached an agreement that averted the December 15 imposition of tariffs on mostly consumer goods, including those often recommended by interior design firms.
The three-month moving averages for the regional categories continue to show uneven revenue growth. Nonetheless, despite softening results this month, all regions are above 50 for the first since July 2019. The Midwest led the way with a reading of 62.5 followed by the West (54.0), South (53.7), and Northeast (51.2). Interestingly, firms located in the South reported three consecutive months of contractionary performance (scores below 50) prior to November.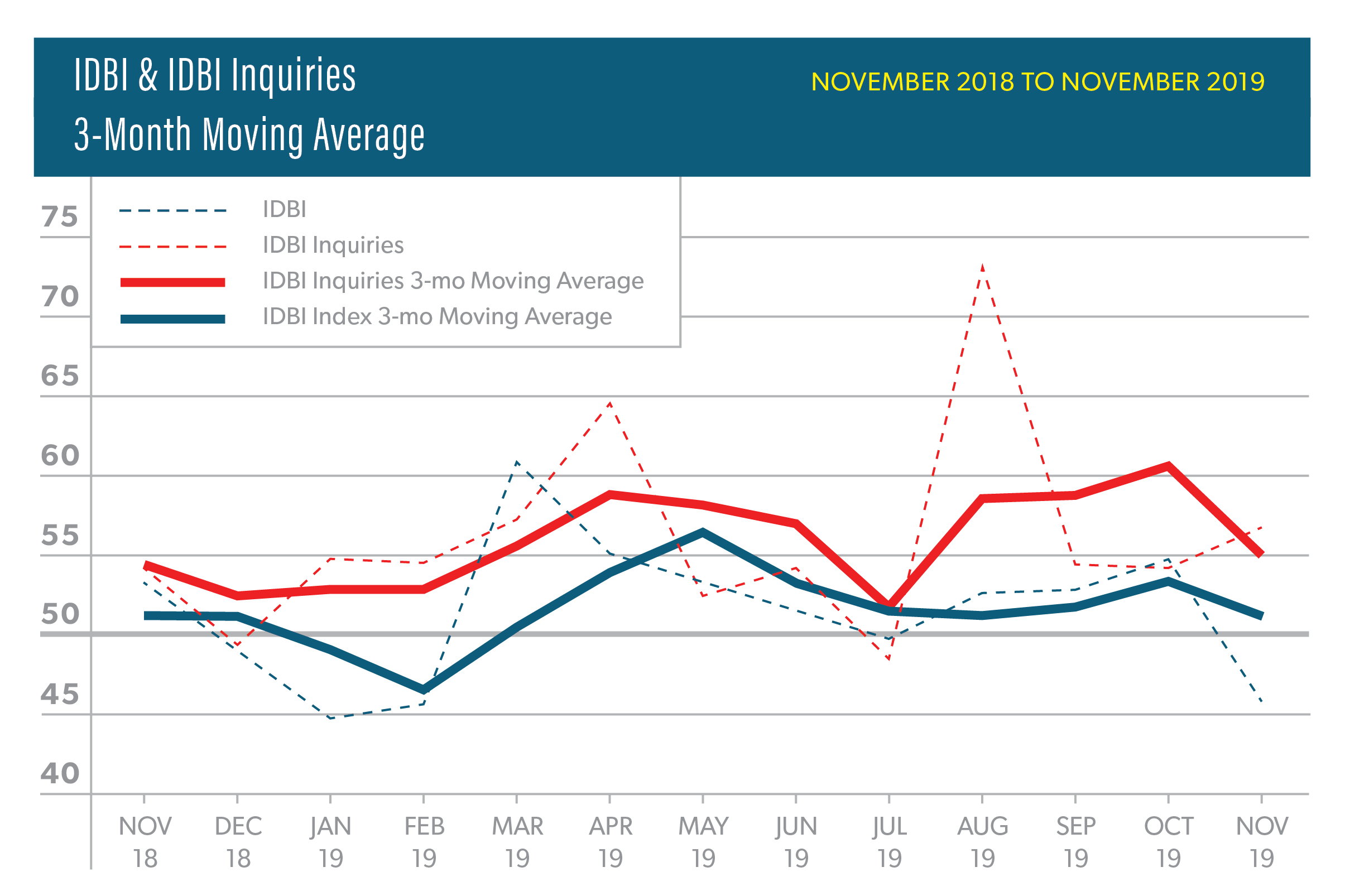 This month's special questions asked our survey panelists about "which economic sectors are you following in anticipation of the New Year" and of these trends, "which is the most important to your business?" Based on highest frequency selected, interior designers are following U.S. Trade Policies (23%), which is unsurprising due to recent news cycle, and Housing Market (22%) the most. While there were multiple sectors that are important for business, housing (35%) and construction (20%) trends were the most frequently cited by panelists.