Daltile Announces Winners of Sixth Annual Interior Design Scholarship Competition
PHILADELPHIA – Daltile, in partnership with the American Society of Interior Designers (ASID) Foundation and the Booz Allen Hamilton Innovation Center, is excited to announce Baileigh Petty as the grand prize winner of the sixth annual Daltile Interior Design Scholarship, presented by the ASID Foundation. A panel of experts from the design industry and beyond used their experience to judge and award scholarships to Petty and three finalists.
"Each year we receive entries from students across the country, showcasing the amazing talent we can look forward to in the next generation of designers," said Shelly Halbert, Director of Product Design at Dal-Tile. "We were so impressed by the creativity and innovation in the student submissions this year. Daltile is honored and excited to award a total of $27,500 in scholarships and grants to our winners, and we look forward to watching these rising stars blossom even further as they continue their education."
This year's challenge was to reimagine the Booz Allen Hamilton Innovation Center using Daltile products and incorporating Fitwel components to create a stimulating, comfortable, and futuristic space for employees. Students were asked to look at the entire Innovation Center space and identify areas of opportunity throughout the floor plan that could be redesigned to increase occupant health and comfort, while adhering to a $25,000 to $50,000 budget limitation.
"For this year's competition, we challenged students to reimagine an existing building while adhering to budgetary constraints, similar to what they will experience as interior designers," said Patrick Schmidt, chair of the ASID Foundation. "The students rose to the challenge, creating thoughtful submissions that addressed the design challenge while keeping the Booz Allen Hamilton brand and employee needs in mind. It is inspiring to see the passion the students have for design."
This year's judges included Shelly Halbert, Director of Product Design at Dal-Tile; Brinda Sen Gupta, Deputy Director of the Booz Allen Innovation Center; Margaret Fogarty, Senior Project Designer of OTJ Architects; and Kristina Tribell, Junior Associate at Abel Design Group and the winner of last year's Daltile Interior Design Scholarship Competition presented by the ASID Foundation.
"One of the pillars of the Innovation Center is to consistently evolve and redefine the way we work. This competition allowed us to crowdsource a new iteration from the freshest and most creative design minds," said Sen Gupta. "We were excited to see the many ways students addressed the challenge, taking an existing space and transforming it completely. The hard work and creativity involved in each submission, taking an existing space and completely re-envisioning its potential, was nothing but inspiring."
Petty, a senior at Utah State University majoring in Interior Design, was named this year's grand prize winner during a special event at the Daltile Philadelphia Design Studio on November 15. In her winning project, Petty transformed the Center's recharge room, a space for employees to take a break from their work, enjoy healthy snacks and coffee, and network with their colleagues in a relaxed environment. Her winning design showcased a variety of products from Daltile, including Fabric Art™, Amity™, Panoramic Porcelain Surfaces™, and Volume 1.0™.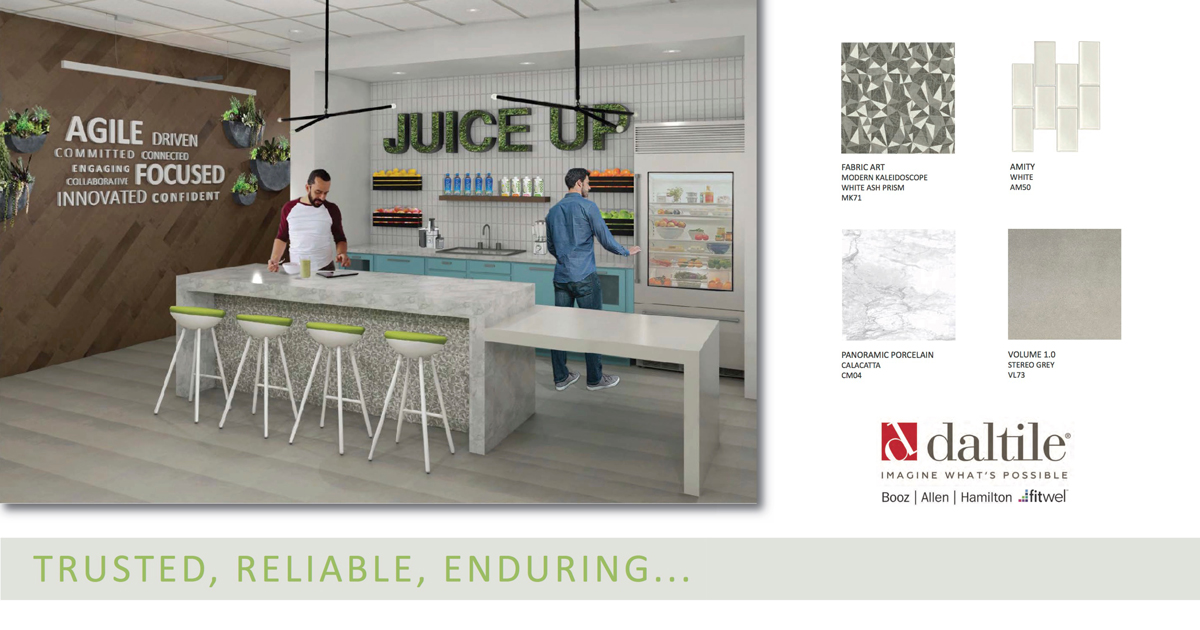 "I have always had a creative mindset and an interest in interior design. When I was younger I wasn't sure about making a career out of it, but I decided to go for it and I haven't regretted it since," said Petty. "Winning the Daltile Interior Design Scholarship is reassurance that I'm good at what I'm passionate about and that my education has paid off in a huge way."
In addition to Petty, three runners-up were each awarded $2,500 scholarships. This year's scholarship recipients are:
Grand Prize: $10,000 Scholarship Winner: Baileigh Petty, Utah State University
First Runner-Up: $2,500 Scholarship Winner: Brianne Brooks, Utah State University
Second Runner-Up: $2,500 Scholarship Winner: Amanda McRae, Utah State University
Third Runner-Up: $2,500 Scholarship Winner: Sasitorn Wangspa, Utah State University
Similar to last year's competition, the school or university with the highest number of completed entries was awarded a $10,000 grant for their interior design program. For the second year in a row, Utah State University won the grant, with 70 students entering the competition.
For more information about the Daltile Interior Design Scholarship presented by the ASID Foundation, please visit www.daltiledesign.com.