ASID initiated discussions on resilience with design practitioners and industry partners, embarking on a research project to further investigate interior design resilience in partnership with Cosentino, Benjamin Moore and Emerald. This study seeks to identify issues interior design businesses and professionals face during major disruptions, track changes implemented in the industry, test the viability of industry-wide changes and demonstrate the value of design. This data was collected in Summer 2020 and is the first round of results in a multi-phase study.
To view more resources and CEUs, visit our Interior Design Resiliency Hub.
Key Takeaways from the 2020 Resiliency Report:
We have strong foundations and we need to continue to build and provide support.
Although we were impacted by the pandemic in multiple ways, we have persevered and are being sought for our expertise in design focused on health, safety and well-being. This research shows several signs of industry resilience powered by professionals, businesses and organizations coming together collectively. Moving forward we need to further empower our creative talent to navigate through continuing challenges.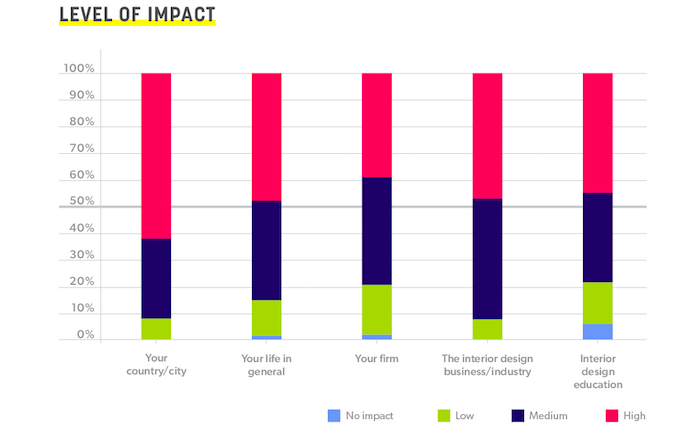 We are open to change and we need to rethink, reconnect and reinvent for a better future.
As creative problem-solvers we adjust to changes, adapt to challenges and attend to crises. This research shows that we have identified some areas for change and continue to evaluate more as we move towards a future that focuses on demonstrating the positive impact design has on our lives. Moving forward we need to connect with others within and beyond our network to share and build knowledge.

We are people-focused and we need to continue to practice with empathy and build trust.
Whether it be our clients, colleagues, contractors, collaborators, etc., we establish solid relationships to create the best and most thoughtful solutions. This research shows the significance and increased recognition of our work as we place people and their experiences first. Moving forward we need to advocate for the value of design as we place health and well-being at the forefront.
In Partnership With: